Filtered on topic: scholen
Over Sint Lucas Architectuur
Sint-Lucas Architectuur offers master programs in architecture. They have locations in Ghent and Brussels.
Homepage redesign
One of our first projects for SLA was to make it easier to add newsworthy content (text, images, news feeds) to the homepage. The site was already in use for a few years before we became involved. It had grown a lot during that time and had become very slow. We tweaked the performance so that it could deal with the large amount of data and visitors.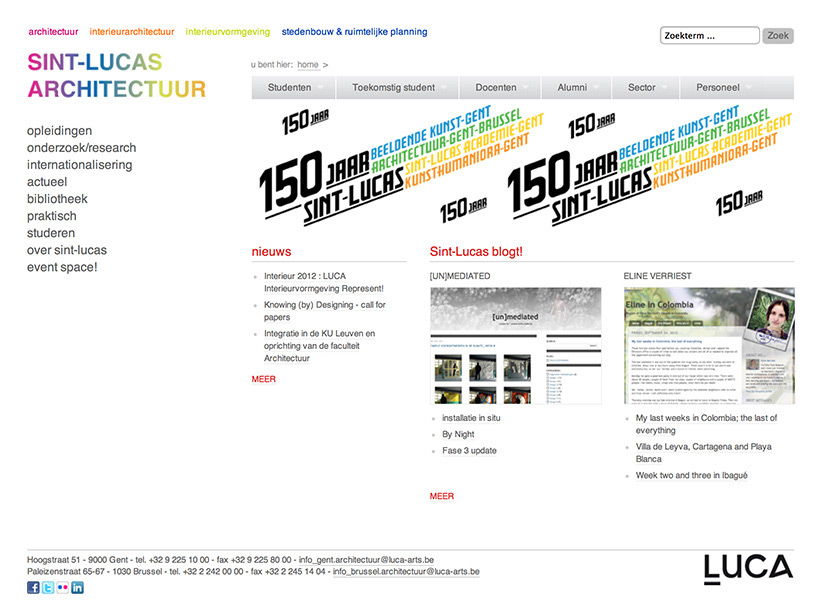 Couchsurf application
Sint Lucas Architectuur has two locations and organizes quite a few events open for international students. We were contacted to create an easy to use application where students could find a place to sleep based on the Couchsurfing principle.
Sint-Lucas Fragile
The fragile blog is a platform for student involvement at SLA. We used WordPress and made a custom theme that allows the students to manage lectures, debates, exhibitions and other activities within fragile.
Conference
SLA had organized the first edition of their international student conference when they first contacted us. We were asked to simplify the organizational overhead related to the conference. Papers had to be sent in, reviewed by SLA staff, commented on, accepted or rejected, etc. This was all done by email, which made it very hard to keep track of what was happening.
We used an existing opensource system (Open Conference Systems) as a basis, which allowed us to deliver a solution fast and at minimal cost. The whole process of paper submission and peer review is now centralized, which saves a lot of time for the organizers.
Voor dit project waren wij verantwoordelijk voor: frontend, programmatie.